Why would you need to rent a dumpster anyway? What is a roll-off dumpster? How do you load one of these? If you have any of these questions or more about waste dumpster rentals, you are in the right place. Today we want to answer the most common dumpster questions we get here at Dumpster Wagon.
Why Would You Need to Rent a Dumpster?
One of the main reasons people rent dumpsters is a construction or remodeling project. It allows you to safely collect all garbage and debris for easy cleanup later. Because of a rental dumpster's size and depth, it is a great choice for:
Trash and junk removal

Large cleanups

Demolition and construction debris

Managing remodeling projects

Driveway replacements

Roofing replacements

Clean up after a disaster

Yard cleanups

Fixing up your property for sale, so you can throw out broken items and declutter, paring down as you pack for your move 

Enhancing your curb appeal – tear down overgrown landscaping, clear out yard clutter, and haul off everything in one waste load 

Spring cleaning projects – clear out your attic of all those old papers and boxes that are really just fire hazards. Clear out your basement and get more space. Reclaim the space in your garage so you can actually park in there!

Flooring and carpet tear-outs 

DIY housing projects, such as kitchen updates, bathroom remodeling, window and door replacements, etc. 

Contract jobs – often when you hire contractors, you are not paying for debris removal. So they will actually bill you a separate fee for that. If you are doing new construction, a major renovation, detailed remodeling, or any other residential or commercial project that will produce a lot of trash and debris, you should get a dumpster. 
What are my Dumpster Rental Options?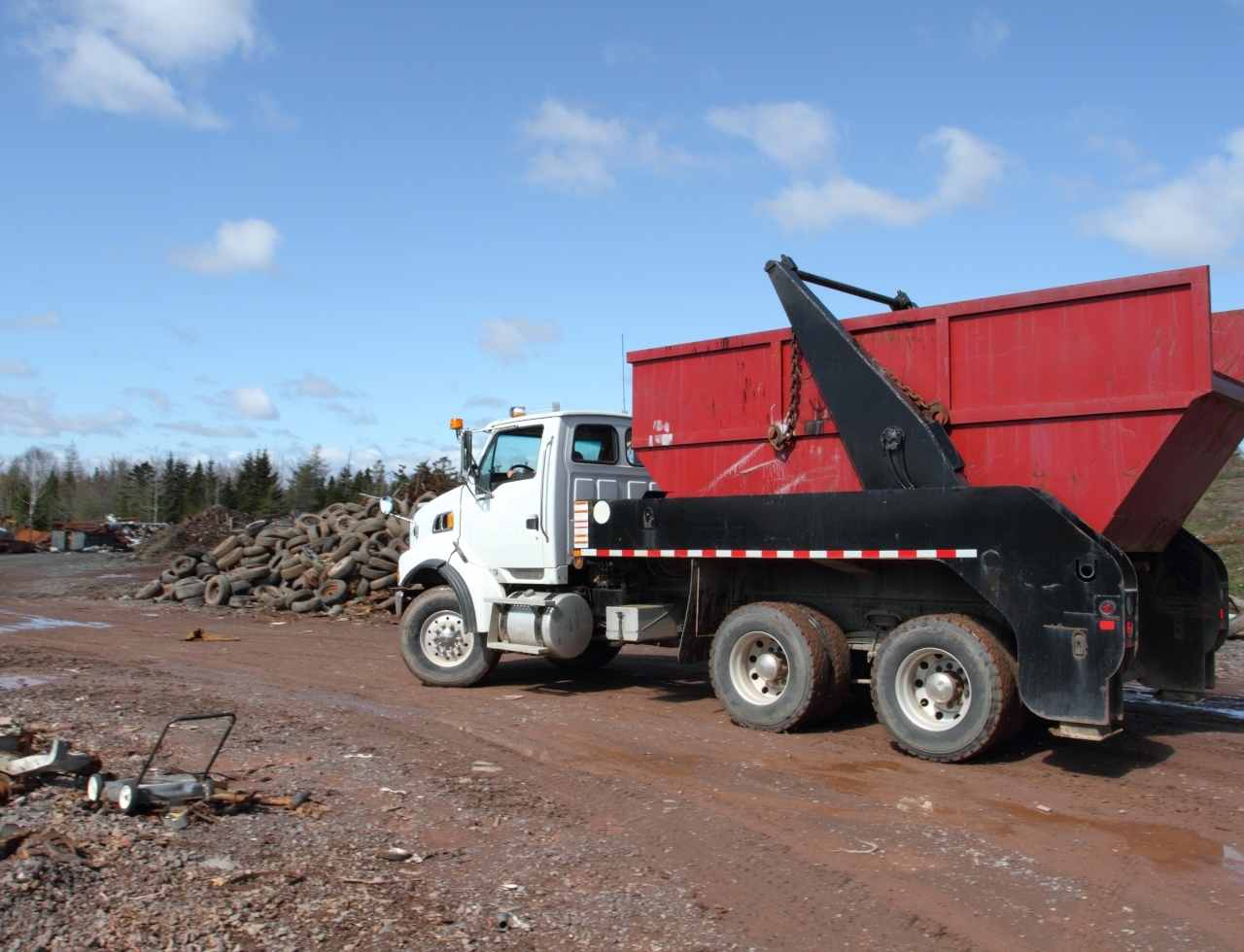 The first choice when renting a dumpster is to select a size. A dumpster is sized based on the cubic yards of waste it can hold. You can find different sizes of dumpsters. 
10 Yard Dumpster – Measures 8' W by 12' L by 3 ½' H 

20 Yard Dumpster – Measures 8' W by 22' L by 4' H 

30 Yard Dumpster – Measures 8' W by 22' L by 6' H 

40 Yard Dumpster – Measures 8' W by 22' L by 8' H 
Extra Options
Opt for a dumpster on wheels if you need it to move around the job site or between job sites. 

You may also ask about locking devices if you have children or animals and are concerned about safety. This will also deter others from throwing their trash into your dumpster.

You can choose a roll-off dumpster with a rear swing door. This allows workers to carry heavier items through the door at ground level, instead of having to lift them overhead to drop into the dumpster. 
What is a Roll-Off Dumpster? 
This is a heavy-duty trash container that is large and sturdy. It is rectangular in shape and made with welded steel. The top is open for easy loading of debris, trash, and junk. They are called a roll-off dumpster because they are delivered by a truck, which literally rolls the dumpster off the back into your preferred spot. 
What is the Easiest Way to Load A Dumpster Rental?  
Place larger items into the dumpster first. Then fill the rest of the space with smaller objects. Spread the weight across the dumpster as evenly as possible. Pack items inside, so there is nothing sticking out the top of the container. 
Cost of Renting a Dumpster
The cost of a dumpster is dependent on the rental duration. Check out our rates. 
Considerations when Renting a Dumpster
When renting a dumpster, your main considerations are effectiveness and efficiency. A centrally located, deep capacity dumpster is the right way to safely remove garbage from a home or commercial project.  
Consider the contents of the load. This will help you decide what size dumpster you will need. Are you clearing your yard after storm damage, or are you doing a renovation or other building project? If you are employing a contractor, ask them how much they estimate the junk will be, so you can get the right size dumpster.  
Consider how long you need the unit on site. Is it a one-day cleanup project, or do you need the container there for a whole week? Knowing the contents of the load will help you decide how long you will need the container there. Remember, we will haul it away on the date specified for the contract. So we will take whatever is there, even if your project is ongoing. You will then need to request another dumpster if you have more debris and junk to remove. 
Consider any permits that may be required to have this in your yard. Most of our jobs are done without permits, but it is always better to ensure a permit is not required. You don't want to be fined for having a dumpster in your driveway. Also, check with your HOA and neighborhood association about their restrictive covenants. 
Our team is upfront with pricing, but if we incur any costs due to your negligence, it will be passed on to you. So this means you should check on what you can dispose of, what is allowed in mixed loads, or any other questionable concerns. Once we haul your load away, you will be billed for anything in the dumpster that shouldn't be there and results in a fine.  
How Long Can I Keep the Dumpster?
We offer one-day rentals, two-day rentals, and weekend rentals. Reservations can be made online for any of these options, but not for the four-hour rental, which must be called in. If you fill up your dumpster earlier than you expected, give us a call, and we will arrange for pickup if our schedule allows, and bring a new dumpster at the time of pickup. 
Do You Offer Same-Day or Next-Day Service?
Check our reservations page for availability. Dumpsters are rented out on a first-come, first-served basis, and we cannot guarantee a same-day delivery because of this. We recommend scheduling your dumpster delivery prior to your project start date to ensure the container will be there when you need it. 
Can My Dumpster be Delivered on a Weekend? 
Yes, we offer weekend delivery, as long as your date is available on our reservations calendar. 
Why Rent from Dumpster Wagon?
We help our customers remove debris in an environmentally safe and fast manner. Our employees are focused on safety and committed to the environment and our customers. With our commitment to a sustainable environment, we only use certified waste disposal facilities. We don't take shortcuts and we don't do illegal dumping!
We offer flexible rental periods that fit your schedule with fast turnaround times. Because who wants a big orange dumpster full of trash on their premises for too long? 
What Can I Put into One of Your Dumpsters?
Yard waste 

Packaging materials 

Toys

Paper 

Cloth 

Mattresses

PVC, metal and wooden furniture

Cabinetry

Metal

Fixtures 

Drywall

Siding

Various types of flooring 

Masonry material 

Bulk grass clippings and leaves

Clean rubble

Construction packaging from builders

Common garbage

Clothing

Coated or painted wood

Plumbing fixtures

Motor vehicle glass with non-asbestos insulation 

Untreated wood and sawdust

Vegetation from utility maintenance

Seasonal or storm clean up debris 

Wall coverings

Waste from a demolition site

Wood pallets
Call us to discuss what you are planning to dispose of so our team can help you determine the best way to proceed. 
What Items Are NOT Allowed in a Rental Dumpster?
White goods

Buckets with paint or solvent or anything of that nature

Computer components and monitors

Containers and drums

Lawnmowers with gas and oil

Friable asbestos

Hazardous waste

Electrical equipment with hazardous material 

Propane tanks

Liquid waste

Whole, cut, or baled tires

Electronics such as stereos, VCR's and TV's 
Risks of Hazardous Waste and How to Handle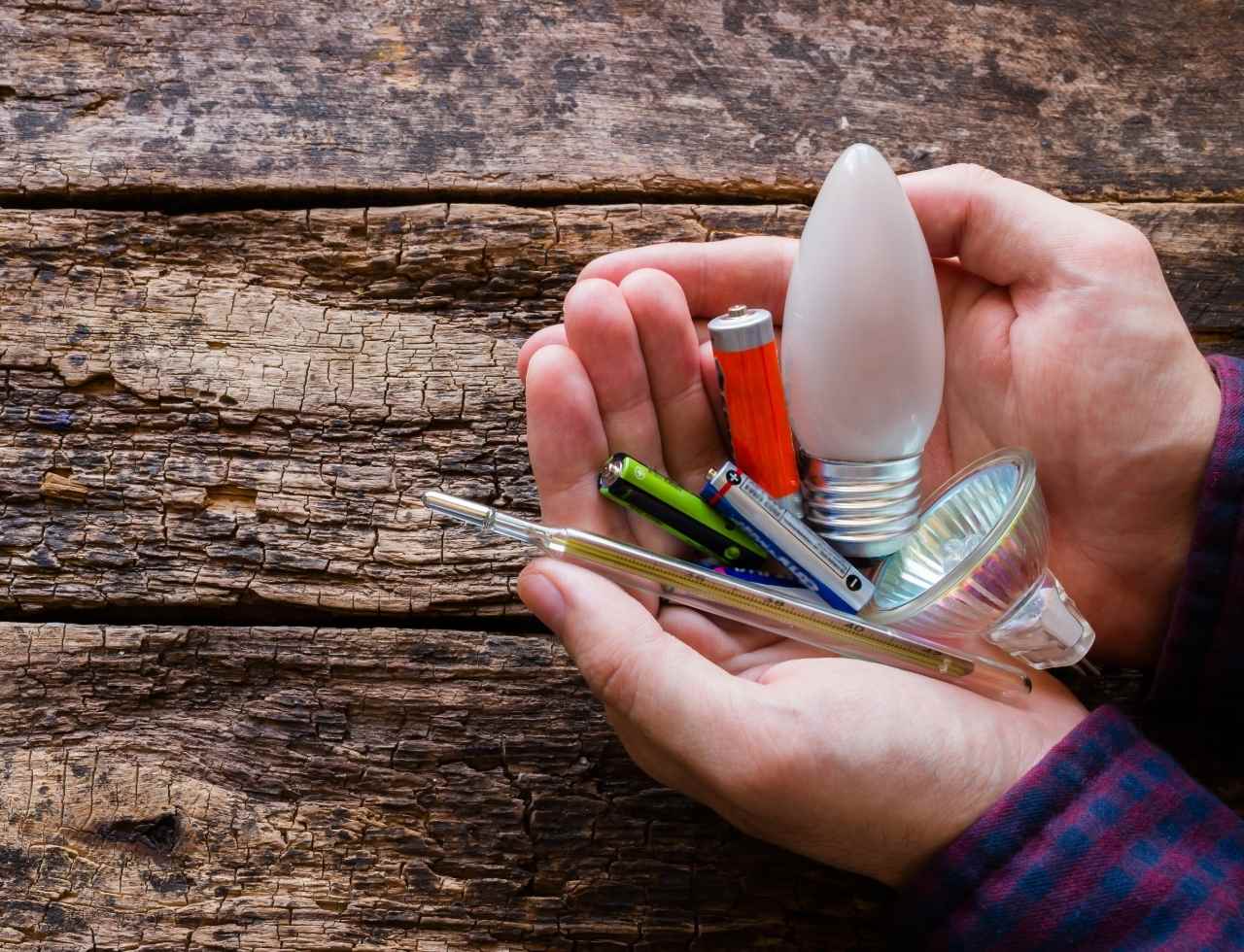 The EPA definition of hazardous waste indicates this is waste that can cause harm to the environment or human health. Hazardous waste can come from several sources, including gas, liquid, solid, or sludge. But for it to be true hazardous waste, it must be in a solid state. Legal requirements for the transport of hazardous waste indicate that it must be transported in specially designated carriers. After transport to the correct facility, it is treated and then properly disposed of in a recycling process. 
The EPA guidelines are simple in determining waste that poses a threat to the environment and human life. This includes waste that is:
Reactive

Corrosive

Toxic

Ignitable 
Reactive waste is dangerous under normal circumstances because it can easily become unstable. They may emit toxic gasses or react with water and have the potential to explode. 
Corrosive waste has a pH level equal to or below 2. Items with a pH above 12.2 can corrode steel. 
Toxic waste can be absorbed or consumed and will cause harm to the body if either of these occurs. These are often leached from landfills into groundwater systems. This happens when landfills do not have underground monitoring or the proper liners. 
Ignitable waste can include liquids with a flashpoint of 140°F. If a fire breaks out with hazardous waste, this can cause air pollution, which may result in a range of health problems to the population of people with asthma and/or allergies. 
The average homeowner does not know what kind of hazardous products they have in their homes, garages, and storage areas around the yard. We should educate ourselves on how to identify these materials. The EPA has indicated the most common types of household waste products. There is also the Earth 911's Database, which can help you find recycling centers in your zip code so you can properly dispose of your hazardous waste.  
Follow any directions on product labels, and check with your local city government website. If you can avoid bringing hazardous waste into your home, do that. A quick Google search can help you find environmentally safe alternatives. 
To reiterate, it is illegal for us to transport hazardous waste. Outside of that, we are happy to haul away your waste materials in one of our rental dumpsters. Reserving a dumpster is very easy; do it online or give us a call. 
How Do I Use a Dumpster to Move?
When you rent that moving truck, what do you do with the junk you have left behind? Leave all your broken items and general trash in one of our rental dumpsters. Our dumpsters help simplify cleanup. Get all your purging done, so you start your new life in your new residence with a brand new slate. 
Get your dumpster before your moving truck comes along, preferably when you purchase your packaging items for the move. You can start placing garbage in the dumpster immediately. You can throw out items as you pack, making the entire process more streamlined. This also helps reduce the number of things you may be tempted to bring with you which can save on moving costs when you remove some items from the load if they are broken or no longer practical. 
Dumpster Alternatives
If you don't think you will have enough trash to fill one of our dumpsters, you can check with Lowe's or the Home Depot. They have bags that you can use, and then arrange for a special pickup. The bags have a 3 cubic foot capacity, are 8' long, 4' wide and 2'6" tall.  The bag costs $30 for one-time use. There is an $8 booking fee, and pickup charges average $180. So you are looking at around $220 total costs for using this alternative. 
Based on our current prices, this alternative is not more affordable, so rent the dumpster from us!
How Does A Roll-Off Dumpster Work?
The dumpster is delivered to you by a truck. The truck's bed is hydraulically operated and raised to literally roll off the container into your preferred spot. The container is lowered into place slowly with the use of a cable. The same roll-off truck will return to pick up the filled dumpster using a cable and winch system. 
Waste Management Dumpsters 
Waste Management in your area also offers dumpster rentals. What they will take and how they will take it may differ from our guidelines. Some items require special handling, including chemical products, batteries, appliances, electronics, construction debris, fluorescent bulbs, flammable, hazardous waste, liquids, pesticides, tires, and medical needles or waste. 
Since these items require special handling, they may not be placed in a dumpster, but you can contact your local waste management for instructions on how to prepare or handle them for proper disposal. 
What NOT to put in a Waste Management Dumpster
Appliances

Batteries 

Tires

Hazardous materials 

Asbestos

Wet paint

Liquids 

Medical waste
Items that are not dumpster friendly should be placed in a designated spot. If you have junk that falls mainly in this category, you should either hire a junk removal company or take the junk to the appropriate dump or recycling center. 
Waste Management Allowed Items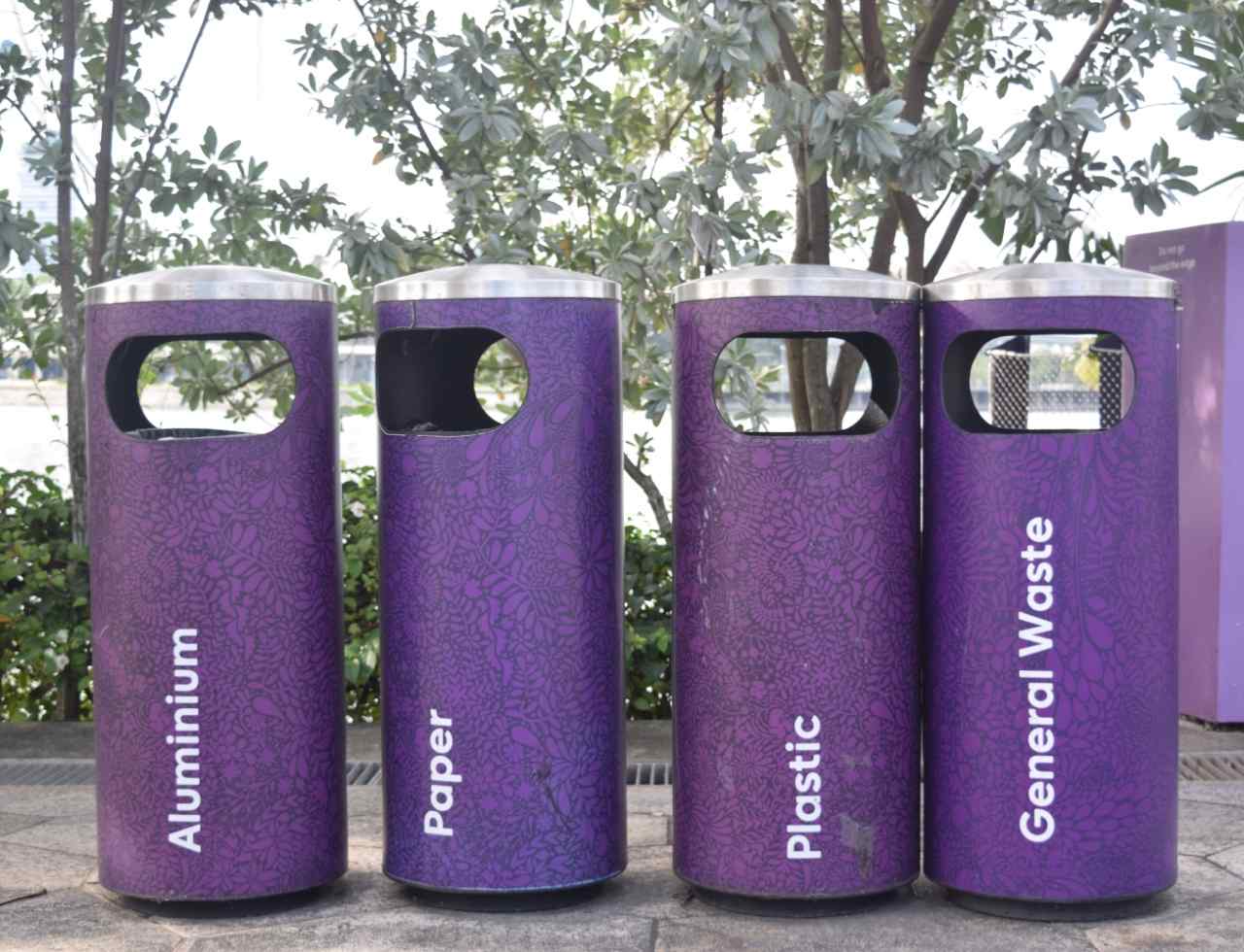 Here are some of the items that are allowed in temporary Waste Management dumpsters.
Scrap metal

Concrete

Shingles

Recyclable materials

Landscaping materials 

Wood 

Sand 

Dirt 
Note that smaller dumpsters may have some size restrictions even for allowed items. 
Construction & Home Improvement Debris
Almost all construction waste can be placed in a dumpster. These include:
Bathroom Fixtures

Asphalt

Brick

Countertops

Cabinetry 

Concrete

Drywall

Flooring

Siding

Stone

Tiles

Lumber and wooden material

Subfloor materials
For heavy materials from Waste Management, you may need to rent a reinforced dumpster.  
Drained Appliances
Most appliances can go into a dumpster. These include AC units, refrigerators, dryers, and washers. The only caveat is they must be drained of hazardous fluids and components first. If you intend to throw them out without draining, you need to hire a professional for that. You will have to pay to haul them away, but it is the more convenient route to go. 
Electronics
Most household electronics are safe to be thrown into a dumpster. However, if you are getting rid of a large number of electronics, you will need to recycle them as e-waste in the following states: 
California

Connecticut

Hawaii

Illinois

Indiana

Maine

Maryland

Michigan

Minnesota

Missouri

New Jersey

New York

North Carolina

Oklahoma

Oregon

Pennsylvania

Rhode Island

South Carolina

Texas

Utah

Vermont

Virginia

Washington

West Virginia

Wisconsin
Donating or Recycling e-Waste
Local e-waste recycling centers are the right choice for sustainably disposing of your electronics. There are also electronics brands and office supply stores that offer mail-in and in-store recycling options for your old electronics. Some stores that offer this type of service include: 
Amazon

Apple

Best Buy

Canon

Dell

Epson

Hewlett-Packard (HP)

LG

Office Depot

Office Max

Samsung

Sony

Sprint

Staples

Vizio

Xerox
You may also consider donating your electronics, even if they are broken. There are charities that partner with tech specialists and harvest items, taking usable parts to refurbish other electronics. Charities then use refurbished electronics in their community work, or they may resell or donate towards a good cause. 
Some places to donate old and broken electronics include The Wireless Foundation, Human-I-T, and Goodwill's Reconnect Partnership. 
Aerosol Cans
Aerosol cans are safe to throw into a dumpster if they are empty. A partially full aerosol may explode. 
Household Junk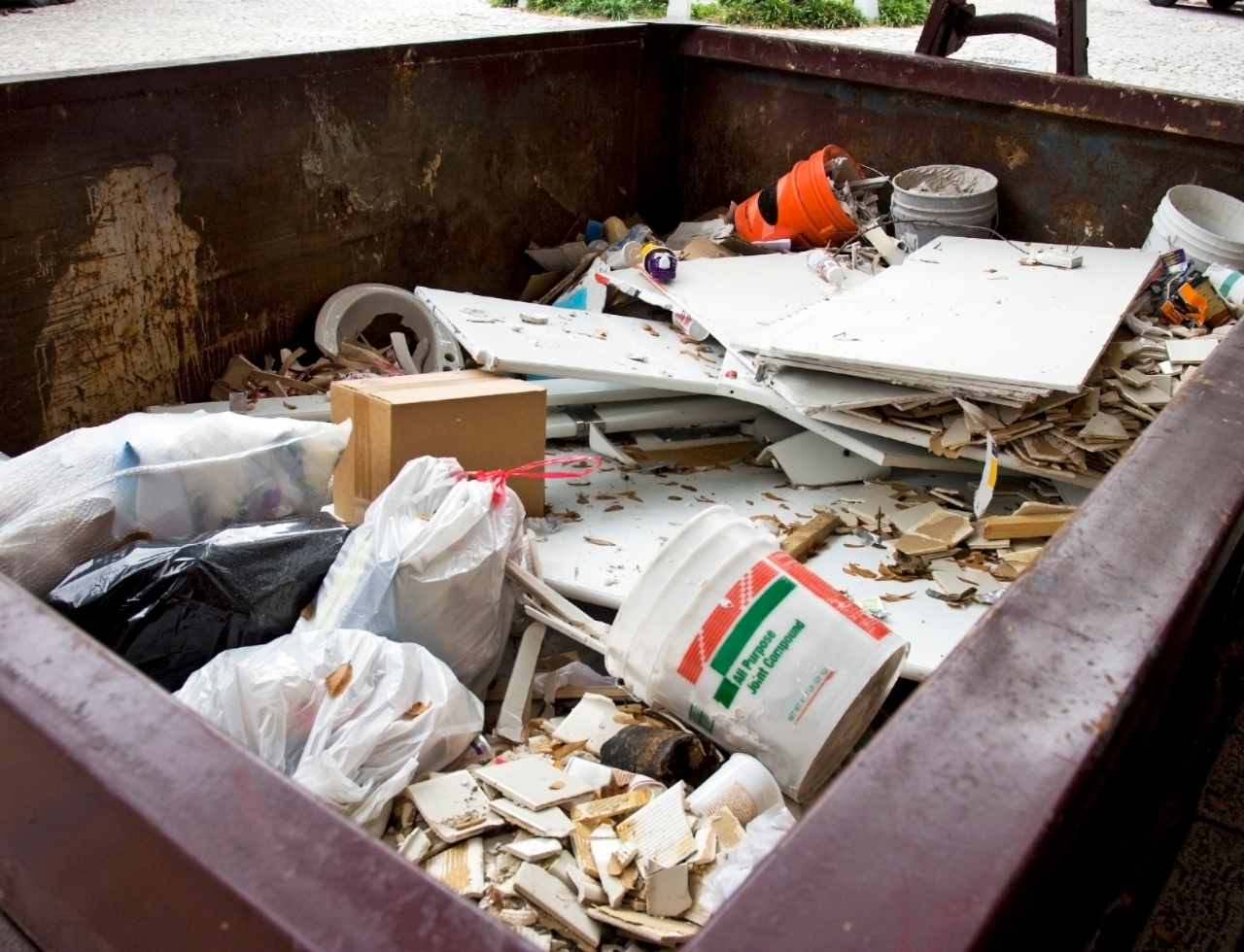 Household junk can be placed into a nonhazardous dumpster. Products that can react, explode or catch fire, are tock or corrosive and are considered hazardous wastes. These cannot be placed into a dumpster.  
Non Hazardous household junk includes most appliances, regular trash, construction debris, yard materials, and furniture. If you are uncertain which products are categorized as hazardous, you can check the EPA's household hazardous waste page. 
Wooden Furniture
It is almost always acceptable to throw your wooden furniture into any dumpster. So your wooden tables, chairs, shelves, and cabinets are all safe. As long as your furniture is entirely made of wood, they are safe for a landfill. 
Upholstered furniture, on the other hand, may have different rules. It is always safe to ask when you have upholstered furniture to throw out before placing them into the dumpster. 
Yard Waste
It is OK to throw all your brush, leaves, sticks, environmental flotsam, and storm debris from your yard into a dumpster. 
Is Renting a Dumpster Worth It?
If you have items you can't sell or give away, renting a dumpster is an ideal way to get rid of these. Similarly, if you are moving or undergoing construction or renovation, it is good to have a dumpster to collect all the junk, which would be too much for your regular garbage pickup or may not even be allowed. 
When to Rent a Dumpster
Ideally, you should rent a dumpster when you want to get rid of garbage on your own schedule. Dumpsters are ideal for your ongoing projects, whether for a residential or commercial property. In need of waste dumpster rental? Here at Dumpster Wagon, we offer the services you require, so contact us today.