Looking for a furniture transport service? Turns out moving across the country can be expensive. Costs for professional movers depend on the distance to travel and the weight of your stuff. An interstate move could cost you around $5000, which is a concerning figure. 
Thankfully, professional movers are not the only option if you have to move across the country. You can rent a moving container, hire labor-only movers, plus other things to get across the country without breaking the bank. 
The way you move across the country depends on your budget, as well as your individual needs. Costs are also affected by who is moving and why. Are you moving for school, or did you just get a new job? Just bear in mind that the cheapest way may not be the best way. Here are four of the most popular ways to move across the country. Your actual moving costs will vary due to how much you have to move, how far you are going, the time of year when moving, and any additional services you may need. 
A Full Service Moving Company's costs range from $4000 to $9000. 

A moving container can cost between $2000 and $4000. 

A freight trailer can range from $2500 to $3000. 

A DIY truck rental company can charge you between $1200 and $2000. 
Those are four conventional ways for you to move across the country and their estimated costs. If you are still not sure how you are going to move, don't worry, we have some less conventional options for you as well. 
Unconventional Ways to Move Across the Country 
1. Sell Your Items instead of Dragging Them Cross Country 
Like most other people, you may have accumulated a number of things over the years. You may have a lot of things you don't even need. Instead of moving with them across the country and then getting rid of them in your new home, why not get rid of them now and make some money doing it? The money you make from selling stuff can actually help fund the rest of the stuff that you are actually going to need to have moved. You also reduce the number of things you have to move with and this will mean a lighter load and a lower price even when you opt for a conventional cross country mover. Fewer things to move also means fewer things to unpack so you can start enjoying your new home faster. 
How can you sell your stuff? You can have a yard sale or rent a spot in a local flea market. Don't forget Facebook Marketplace and other online outlets and smartphone apps where you can sell your things. 
2. Rent a Portable Moving Container
This is one of the most popular options for moving across the country. This allows you an alternative to a full-service moving company. It is a more affordable alternative and they are great since they double as storage before or after your move. The costs will be affected by how long you keep the container as well as the size of the unit. You can get a container for rent for anywhere between $2000 and $3000 per month. 
If you opt to use a moving container you can move your boxes and belongings into it at your convenience. Then the container company will trek the container to your new address. Companies that rent these containers include U-Haul, U-Pack, PODS, Go Mini's, and U-Boxes just to name a few. 
3. Source Free Moving Supplies 
You can easily cut costs by gathering as many free supplies as possible. This means using used boxes, packing tape, and packing paper or pellets. Check online marketplaces, nearby retailers, community groups, or just drive around your neighborhood to see if anyone has left something out. You can also check out recycling drop-off points and behind grocery stores and local food markets. Ask your family and friends for boxes they may have lying around that you could use. 
4. Rent a Moving Truck 
This may very well be the cheapest way for you to move across the country. If you will be driving to your new home in any case, consider renting from a reputable company and do the hauling yourself. A do-it-yourself truck can save you thousands of dollars. Just factor in the gas you will need before you choose this option. The cost of fuel for trips 2000 miles away may not be worth it. 
5. Using a Freight Trailer
Instead of a moving trailer, get large freight trailers instead. The company will drop off a 28 ft trailer and you have three days to load it. The company then picks up the trailer three days later and brings it to your new address. 
6. Choose a Good Date 
The time of day has a lot to do with the price you will be asked to pay. Avoid what are considered peak moving days. What are those you ask? Peak days to avoid include;
The weekends

The months between Labor Day and Memorial Day

The first and last week of a month 
Good Dates include;
Mid-month

Mid-day 

October to April 
7. Ship It!
This is by no means a popular option, but it is a good way to move if you are not moving a lot of stuff. You can ship items through UPS or FedEx. 
8. Let Your Boss Pay for It!
If your job causes you to move, you should check if they offer any type of moving allowance or stipend. Many companies will pay you to move, or at least offer some relocation assistance. Keep those moving receipts, so you can be reimbursed if that is the way your company does it. 
9. Get Moving Labor 
If you can't manage the loading and unloading of your truck rental, you can hire labor-only. These services will do donation pickups, junk removal, and of course packing help. You can find this option at your local moving service and it will help you save a lot of money. 
10. Get Help from Friends and Family 
If you don't have money for labor-only services or would rather not spend that money, call up a few friends and/ or family members. You can pay them back with a gift card, some pizza while they work, or a bottle of wine to take home. That will still save you a ton on hiring professionals. 
11. Seek out Discounts 
There is no shame in seeking out discounts, nor is there any shame in asking for a discount. Sometimes you can find a discount so big it makes a moving company the most affordable one on your list. 
If you've served in the military, you may be eligible for discounts specifically for you. Members of AAA, you may get a discount for that as well. Just ask for information on discounts when making your checks so you know the true cost of any service you opt to use. 
Bonus Tips
1. Donate 
Are there large items you don't want in your new home that you can't sell for whatever reason? How about you donate those items? This could include heavy furniture, sports equipment, and other large items that would either take up too much space to move or would just make your move more expensive and difficult. With long-distance movers charging by weight, large and heavy items can really add to your bill. In such cases, it would be more cost-effective to donate an item prior to moving. 
2. Insure Items 
If you are shipping expensive items you may need to add the expense of insurance upfront to save you in the long run. If you are moving a lot of valuable items consider insurance to protect your valuables while in transit. 
3. Deductibles 
As you are talking about insurance with your moving company, be sure to ask about deductibles. Some providers will have a requisite deductible before they pay over a claim. So if the movers break something valued less than that deductible amount you are going to be left to fix that on your own. 
4. Get Multiple Quotes 
Get multiple quotes and get them in advance so you have time to properly compare them and make the best choice. You will find many moving companies booked 6 to 8 weeks in advance and you may even have to interview them months before your move. 
Though a professional moving company can be expensive it is also very convenient especially if you choose a full-service option. 
The Cheapest Ways to Ship Furniture Across the Country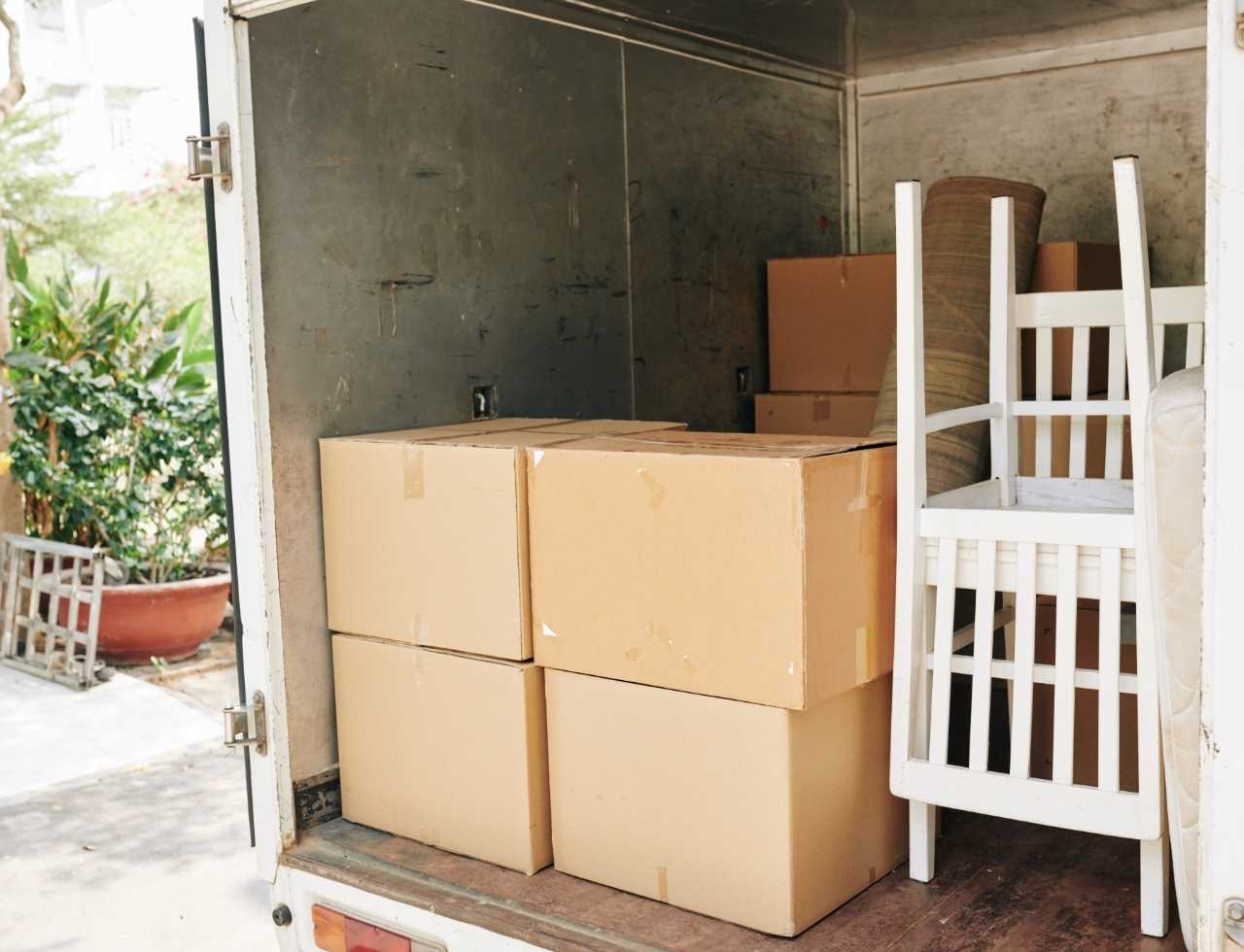 Taking or sending your furniture across the country will be a daunting task and as we have noted already, an expensive one as well. There are a couple of variables that affect the prices you will find when you start doing your research. These include: 
1. Item Size 
As noted above, the larger the item the more difficult it will be to move and the higher the price will be. There's also the fact that an item's size eliminates the option of air freight. 
2. Item Weight 
The heavier your items the more cumbersome they will be to move. Moving companies may need additional personnel and additional equipment to move heavier items, and the heavier an item the higher the chance it will eliminate some transportation methods. 
3. Item Value 
Some items may not be worth the hassle of hiring a moving company and shipping across the country. Then there may be heirloom furniture or designer pieces that are expensive and hold a higher value that you need to protect. 
4. Move Distance 
The further away you are moving the higher the cost will be. 
The truth is you don't want your cross-country shipping costs to be "cheap" but you want it to be inexpensive. You can save money but cheap is most often not a good idea when it comes to entrusting your valuable items to the hands of other people. After all, you want your stuff delivered and in the same condition they were in when they left your old resident. So you may want to save but you never want to go cheap. 
Here are some cost-cutting options that provide you with savings and a good, safe way to move your furniture across the country securely. 
5. Rent a Truck/Trailer and Drive Yourself 
While this method can help you save money it does demand more from you. There will be costs associated with driving across the country such as gas, food, and lodging, and of course, this will take up a good chunk of your time depending on how far you have to move. 
Hidden Costs 
As it relates to gas, hauling a trailer behind your car can really cause an increase in your gas mileage. Depending on how far you are going and how well your car performs, you may end up spending all the money you saved when you opt to drive yourself. 
As it relates to food, you may need to stop for a couple of warm meals while on your road trip no matter what type of snacks you have brought along your little trip. These meals can and will add up. You will also need to purchase water/juice to keep you hydrated as you travel. 
As it relates to lodging, you may find you need to stop overnight to rest and recoup for your next long day. You can choose from hotels, motels, and AirBnB's, which will all add to your moving costs. 
As it relates to time, if you are driving yourself, you need to do this on personal time. This means you may have to take unpaid time off from work, and you will also need to pay for the days you had the rental trailer. 
Some companies may require you to have some sort of vehicle that is better suited for their tow-dolly, giving you the additional expense of a car rental. This one can be a big expense, so you want to ask about it upfront. 
You also need to consider and ask about fees. There may be taxes and environmental fees added to your total cost. If you are younger than 25 there may be an additional fee as well. 
If you don't have access to professional equipment like most regular people, you can damage your belongings. If there is anything to repair or replace it will all be up to you to foot the cost. While renting and driving yourself may be the best option for a local move, it may not be the best idea for an across-the-country move. 
Transporting Furniture via Planes, Trains or Buses
Buses allow you to transport boxes but there are usually strict weight and size restrictions. So oftentimes this method of transportation may not be feasible as it can be very expensive. Planes and trains also have their own size and weight restrictions along with destination limitations. There are honestly a lot of limitations when it comes to these methods of transportation. 
Shipping Containers or Pods 
These are dropped off at the address you are moving from. They are left on the driveway and you are allowed to keep them for a particular amount of time. During this time you will need to pack your belongings inside. After the predetermined time has passed the company will return to collect the containers or pods. This method is ideal when moving many boxes at once. 
Less Than a Truckload Shipping
This is one of the most cost-effective ways for you to transport your belongings across the country. The cost here is low because your items are pooled with other people's items to create a full truckload for shipment. The downside is that this method usually involves your furniture making multiple stops and vehicle changes before arriving at your desired destination. It's ideal if you are not in a rush but are looking for a low-cost reliable shipping method to get your furniture across the country. 
Protecting Your Furniture When They are Not in Your Care
You want a reliable means for shipping your furniture across the country. You want your items to be delivered undamaged, at a fair price, and in a reasonable time frame. The option that worked for your family or neighbor may not be the right one for you. The right one for you depends on your circumstances, your needs, and the items that you will be shipping. 
How to Move Across the Country Without Going Broke
Moving across the country can be frustrating and can be a downright nightmare.  Here are some tips to help you through the process of getting the right moving help at the right price to protect your sanity and your pocket. 
1. Don't trust the lowest priced estimate. Do your research, look at reviews and read testimonials to ensure you are getting value for money. Then ask questions and ensure you are clear on each step of the process and how your costs are calculated. You don't want to find out that after delivery that you end up with a bigger bill because you didn't get all the information. Don't trust any company that sends you a "binding estimate" without actually having someone come over. 
2. Don't bring all your stuff. You may have items that are not worth moving, so don't bring them across the country with you. Really take a good look at your stuff and make a note of what you don't need to bring with you. You can try to sell items or you can donate them. 
3. List your largest stuff on Craigslist. If most of your moving budget is blown on one or two large items, you may need to cut the dead weight and sell the item. Try creating a listing a couple of weeks before you move. Approach your listings like you would approach a yard sale. Choose one day to be your Craigslist day, and have buyers come over on that day. If they are 15 minutes late or haven't confirmed they are coming, you can contact the next prospective buyer for that item. If you don't have a lot of stuff, you can dedicate half a day or just a couple of hours to this part of the task. Make sure all your items have post-it notes with prices on them. This way, when someone picks up their item, they can possibly impulse buy something else you have available then and there. 
4. Have a "Take My Stuff" party and invite your friends and family. If there are items you have that can't be donated but aren't worth moving, you can have a party and let your friends and family members use them up or take them home. This can include all the non-perishables on your shelves, half-finished bottles of alcohol, or expensive jars of spices. 
Have tote bags to give each person as they enter and point them in the direction of the stuff they can take. 
5. Donate 
Check out local charities in your area and see what they will accept as donations. Don't forget the Salvation Army and Goodwill. Then pack your stuff in boxes and head on down. 
6. Ship anything left after steps 1 through 5. If you have done all the above steps and your place is almost empty, now you can start looking into how you will get across the country with the rest of your stuff that you just couldn't part with. 
Moving with Greyhound 
You can check out the Greyhound Package Express option. They will take sealed boxes under 100lbs and with maximum dimensions of 29 x 47 x 82 inches. Your boxes will be loaded on buses with additional storage space and that are scheduled to make the trip anyway. Their rates are a lot cheaper than moving companies and at the time of writing, they are offering a discount for shipping more than 6 boxes. The limitation to using this service is that buses must have extra storage space to accommodate your boxes. They always prioritize passenger cargo before placing yours on the bus. So the process could take a couple of weeks. But you can pay a little extra to have your stuff dropped off at your door, and in some areas, you can benefit from pickup services as well. 
To note, the people who pick up and drop off don't do steps/stairs, not even a single one. If you have stairs, you may need to enlist some help from friends or family to get those boxes up and down. 
When shipping your boxes, you know your boxes are going to get a lot of rough treatment. It is best to purchase new cardboard boxes and to use the best industrial-strength packing tape you can find. Use the tape to cover as many exposed cardboard edges as you can, especially when packing fragile items or sentimental items. Anything too delicate will need additional packing materials or may very well need to stay with you so you can hand-carry it to your new destination. 
Get Short Term Accommodations 
You can choose a short-term sublet, an Airbnb, a hotel, or stay with family and friends before moving into your permanent home. This will help you in many ways. 
If you are going to be shipping your stuff, chances are, you will arrive before they do. This is especially true if you are moving for work and haven't entirely figured out your new housing situation as yet. In this case, you may need to do a short sublet before moving into your new place. You can find this faster so you can start living in the new city and get a better understanding of exactly what your new home needs to do for you. 
Get a furnished, short-term sublet in the neighborhood you would like to live in and start checking out the local area. Bring a bag of clothes and any valuable or fragile items you can't ship. If you find it hard to locate a place to settle, at least you won't have to worry about multiple moves of large items. This also gives you time to check out other neighborhoods until you find the right home. 
If your only option is a hotel, look for extended stay hotels or hotels with suites so you can do your own laundry and cook. This will help to save some money while in this in-between place. 
If you have family or friends that have space and are willing to put up with you, that would be a great option as well. 
Tips for Moving Across the Country That You Didn't Think About
While you may be currently obsessed with how you will be moving your stuff and where you are going to live, those aren't the only things you have to consider when moving. Moving across the country can easily get overwhelming especially when you haven't properly planned for all the possible hiccups. Outside of your furniture getting there, there are other things you need to plan for. 
1. How you will travel to your new location. Will you drive or take a flight? If you are driving, what other expenses will you incur; gas, food, lodging? Also, if you are driving, do you have the time? Will you need to take off some extra days so you have to leave your current job earlier than expected? Will that mean a loss of income, and will you survive that loss of income? If flying, how will you get your car there? These are all questions you need to ask yourself so you can plan as well as budget for this aspect of your move. If you are flying, how will you get to and from airports? What will happen for the days that you are in the new city without your car or in your current city without your car if you ship it out before you leave? 
2. Appointments and your timeline. Are there those last time appointments or last time visits you need to make before you go? Do you need to see your current doctor or dentist? Do you need to get together with friends or family? Make sure to schedule these things no matter how trivial and "easy to get to" they may seem. Set aside the time and put it in your planner or to-do list so you don't lose track of all the things you need to get done. 
3. Tax Deductibles. Did you know that work-related relocations may be tax-deductible? Even if you are self-employed, it is a good idea to keep any paperwork associated with the move. Keep your receipts, bills, and proof of mileage if you drive. If your move is eligible, you could get back some money for what you spent to relocate. Note, however, that tax laws are always changing so check with your accountant or the IRS for the most updated information. 
4. Learn about your new community beforehand. Check their website or look online for local blogs, newspapers, and groups. You may find new meet-up groups or other ways to get to know your new neighbors as soon as you settle in. Having this information before your move can really help you to make a smoother transition. 
5. Have a pet? Consider having an overnight kit for your pet with all they need to keep their stress levels down while on the move. Start to acclimate your pet to spending time in a carrier or crate months before your move. Get their health records from your vet and start looking for a new vet before you hit up your new town. You also want to familiarize yourself with any local ordinances or state laws that are pertinent for pets and their owners. Are there any health certificates you need to get before your move? Find out about permits, health certificates, and rabies tags. 
6. What about all the crap you will be leaving behind? 

A cross-country move is a perfect time to declutter and scale down. We have hinted at selling items and giving items away but when all is said and done, what do you do with the things you can't sell, give away or take with you? You will have to dispose of them of course! Here is where you can enlist the help of Dumpster Wagon. We will get rid of your junk and debris for you. All you need to do is reserve your dumpster, we then deliver it to you. You fill the wagon with up to 3 tons of your junk, debris, or leave behinds and then we come back to pick it up for you. 
7. Check certification laws in your new community. If you are moving without a job offer, you will want to check ahead of your move if your certification will hold up in your new municipality. You also should keep those copies of your certifications on your person instead of packing and sending them with the rest of your stuff. Different states will require different certifications for a number of professions. Don't be surprised if you are certified in your current state but will have to do some sort of certification or registration in your new state. 
8. Check your new locality's crime rate and statistics. We hope you check this before making the decision to move to ensure that you will be safe living there. Make sure you are getting information from reputable sources such as local law enforcement and newspapers. If you can get the opportunity to talk to the local residents as well, this can give you a clearer understanding of what the actual situation is. 
Moving across the country can be overwhelming. Just thinking about it can easily distress you.  But if you use the tips included here on how to transport furniture across the country you will be able to make your move the smoothest you have done to date. The key is to always start your planning process in advance and make a realistic budget you can stick to. Choose a furniture transport service after careful consideration and good research to give yourself peace of mind while your valuables go across the country without you. And to scale things down, don't forget about taking care of all the junk you have accumulated by having it hauled away.