The construction waste disposal service here at Dumpster Wagon is capable of handling a variety of debris. We accept common construction debris to include: 
Heavy debris: block, concrete, asphalt, and bricks 

Shingles and Underlayment: felt paper, tiles, roofing flashing, and gravel

Building materials: flooring, siding, drywall, and lumber 

Landscaping waste: stumps, grass, branches, dirt, and shrubs

Building materials: siding, flooring, drywall, and lumber
If you have debris not mentioned here you can call our team to verify what can go into your construction debris dumpster rental.  
Types of Dumpsters Available for Rent
The most common types of dumpsters available for rent include: 
Roll-Off Dumpsters
These dumpsters are high capacity and heavy-duty. They are most often used for project cleanups, such as construction, demolition, or renovation. They are called roll-off dumpsters because of the way in which they are operated. The dumpster rolls off the back of the truck upon delivery. They are designed with an open top.
Small Dumpsters
Dumpsters categorized as small range from 2 to 8-yard capacities. They are often used for commercial needs for transportation of old furniture, warehouse waste, and bags of trash. Some will have closed tops, while others have an open-top design. There are some equipped with sliding doors, so you don't have to lift trash overhead. 
Construction Dumpsters
These are almost always the roll-off type. They have an open-top design with a heavy-duty capacity. They come in sizes ranging from 10 to 40 cubic yards so they are ideal for both residential and commercial use. You can also find specific dumpsters that handle asphalt, concrete, and soil. 
Yard Dumpsters
These are designed to be used for the collection of yard waste. Items such as manageable pieces of wood, grass, and shrubs. You will find these dumpsters ranging in size from 10 to 40 yards. Larger options can be used for large-scale commercial landscaping projects. These are typically roll-off dumpsters as well. 
Factors Affecting Dumpster Rental Pricing
There are multiple factors that affect the rental pricing of any dumpster. Let's look into each factor below. 
Dumpster Size
There are different sizes of dumpsters available for rent. The different sizes are suitable for different jobs. You can find dumpsters with capacities ranging from 10 cubic yards to 40 cubic yards. Smaller dumpsters are ideal for moderate junk, such as trash from a home cleaning, small renovation, or construction project. Larger dumpsters are ideal for moving clean-outs, moderate to large excavation needs, and more. 
Location
You have to consider the location of the dumpster rental company. The harder it is to get the dumpster to you, the higher the price may be. Also, some companies only operate in a certain geographical area. 
Company Type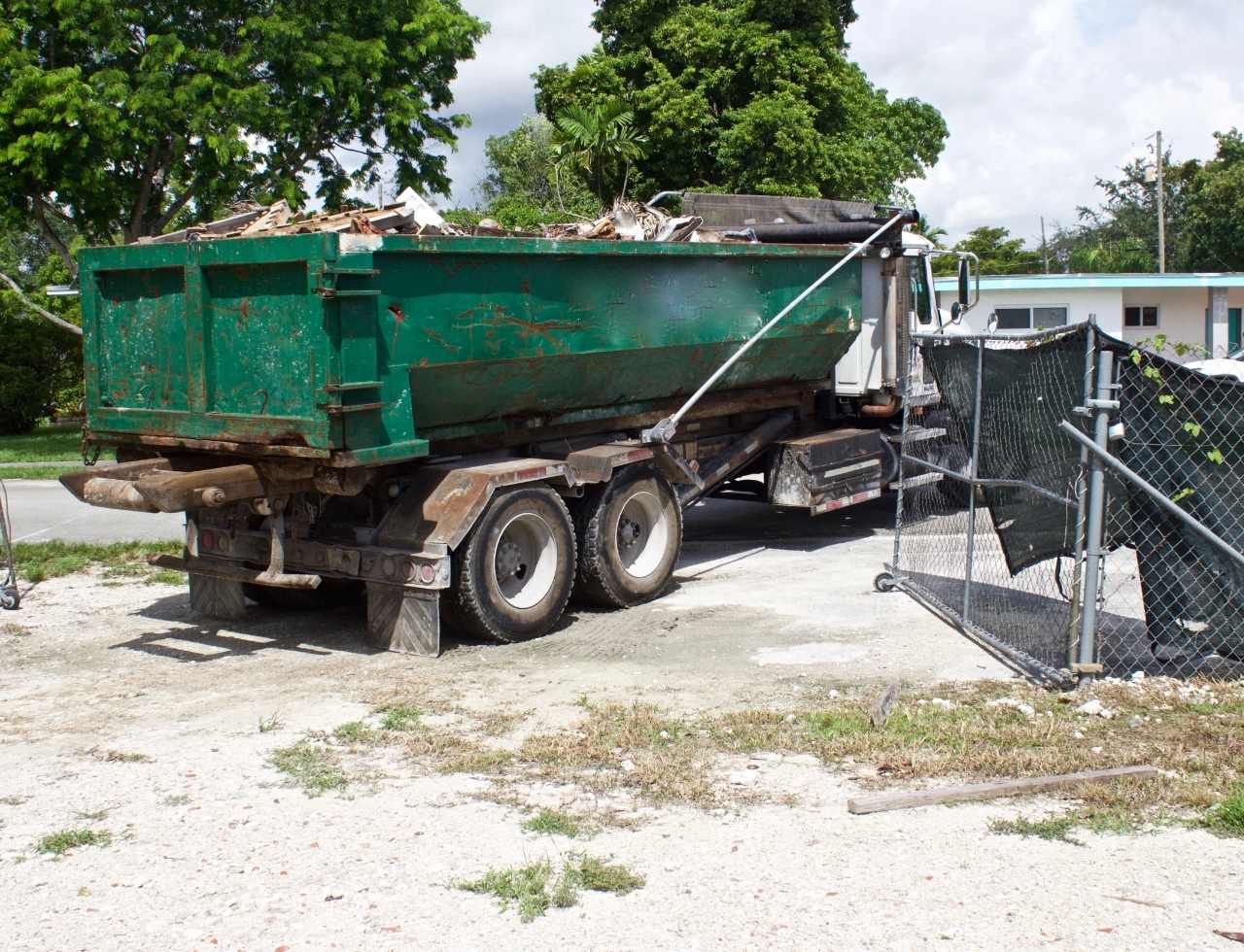 You can find local rental companies like ourselves, or you can opt to use an out-of-state broker, a national chain, or your local waste management may have dumpster rentals too. Rental prices will differ based on their business models.  
1. Local Independent Companies – These can offer a more personal service and lower prices. They are often family-owned, but with their small size and a limited budget, they may not be able to provide you with the size dumpster you need. A company like Dumpster Wagon is able to accommodate the right dumpster for your project.
2. A National Chain – These companies will have a national-sized budget and have more inventory. They may be able to provide you with heavy-duty dumpsters if you are looking for specialized large-capacity dumpsters. 
3. Out-of-State Brokers – These are typically middlemen and will not have their own dumpster inventory. They connect customers to independent providers and will book and schedule pickups.
Your area may not have all the above options to choose from. In more remote regions, you may have one type of company or even just one company to choose from. 
4. Rental Basis
You will have a flat rate rental when you choose to rent from us. So you choose your time span, and we will drop off and pick up the dumpster according to your needs. We will pick up the dumpster on time, whether it is empty or full, so you need to be mindful of pickup times and dates. 
Other providers may allow for flexibility with their rates based on your needs. In our experience, flat rate rentals and variable rentals have been shown to cost the same per week. 
5. Availability
Supply and demand can also affect prices. You will find some companies hiking up prices during prime construction seasons, such as spring. To avoid this, you can book ahead as far as possible. 
6. Rental Duration
You can find dumpster rentals with different durations. We offer 4 hours, 1-day, 2-days, and weekend durations. You will find other companies offer 7 – 10 day rental periods. You will have the option to request early pickup if you fill the dumpster ahead of time, but these can't always be guaranteed. 
Some companies will also allow you to keep the dumpster longer than you initially agreed. This again is subject to availability and comes at additional costs. 
7. Type of Trash
Many cities charge dumping fees based on the type of garbage that is being disposed of. These costs are of course passed on to the customer. You may find companies quoting different rates for different material types, or even having restrictions on what can go into the dumpster. 
At Dumpster Wagon, any fines incurred by us due to your negligence or ignorance will be passed on to you. When in doubt, ask us about any item you want before placing it in the rented dumpster to be hauled away. 
8. Trash Weight
Companies that charge by weight will charge you more when your trash is heavier. The reason for this is that landfills will charge based on weight, as well, the weight of the dumpster will affect how much fuel the truck uses to haul it away. 
Dirt, concrete, roof shingles and construction debris weigh more than household trash and can easily double the weight of a dumpster. Even wet yard waste, such as leaves, can weigh more than dry, so you may consider covering up any waste you have that is absorbent if you are expecting wet weather. 
9. Permits
Permits are required for placing a dumpster onto residential property in a number of places. Before you rent a dumpster and get hit with a fine, you should check with your local government, HOA, or community. 
10. Additional Fees
There are a lot of fees involved in dumpster use that can be charged on top of your base rental price. Some fees include: 
Delivery or trip fee – this is the fee for bringing the dumpster to your property and removing it once full. Proximity to the dumpster rental company and dumpsite affect this cost. 

Dump Charge/Landfill Charge – This is often the most expensive fee added to your dumpster rental bill. The landfill will weigh the debris and charge accordingly. The cost will then be passed on to you. 

Hazardous Waste

Fee – If you place hazardous materials into your dumpster rental, this fee will be levied onto the dumpster rental company, and they will pass on those charges to you. 

Late Fee – If you need to keep the dumpster beyond your contracted time, you will incur late fees and additional charges. 

Overage Fee – This is applied when your load is overweight. 
Some fees may be negotiated, while others can't be. When making your initial inquiry, ask about fees and charges, so you have an idea of what you can expect. 
How to Save Money on Dumpster Rentals
Here are some ways you can save money on your dumpster rentals. 
1. Hire a junk removal service. These companies offer dumpster disposal services without the need for a long dumpster rental. You can often call these companies on the same day you need the junk hauled away. 
2. Choose the right size dumpster. Estimate the volume of material you have to dispose of. Ask your contractors to provide an estimate or ask the dumpster rental company if they can provide a recommendation.  
3. Try cost-sharing. Is your neighbor also doing a project? Why not come to an agreement with them and share the dumpster costs. If you can organize a neighborhood clean up that would even be better. 
4. Shop around. Shopping around can save you money on almost everything. Collect multiple quotes and compare prices and what's included. Don't just go with the cheapest price, check out reviews to get a better idea of what to expect as well. 
5. Negotiate. Don't be afraid to negotiate and ask for discounts. Remember that often the initial quote does not include all the fees and charges. So don't be afraid to ask questions and try to negotiate the best price. 
Frequently Asked Dumpster Rental Questions 
1. What size is a construction dumpster? 
You can find different sizes from 10-yard capacity to 40-yard capacity. 
2. How much does construction debris removal cost? 
Construction dumpsters can cost as much as $800 or even more. The price depends on a number of factors including weight limits, taxes, fees and charges, the cost of pickup and delivery, dumpster size, and more. 
3. What happens to the construction waste?
We haul the dumpster with your waste to the appropriate facility to ensure proper disposal and recycling. 
4. What materials can't go into a roll-off dumpster?
 Waste that is considered hazardous, toxic, corrosive, and flammable is prohibited from being placed into roll-off dumpsters. Things that are not allowed include:
Tires 

Motor oil 

Paint 

Batteries

Fuels 

Asbestos
Ensure you know what should and should not go into a dumpster so you can play your part in keeping our environment safe for future generations. If there is any uncertainty or you still have questions regarding what is safe and allowed. Give us a call so we can advise you. 
5. How long can I keep my dumpster? 
We offer a variety of rental periods which you can choose from. Find the ideal dumpster and rental period on our reservations page. 
6. What is the ideal placement for my dumpster rental container?
There are a number of factors that affect this. Check with your city but also check out your HOA to see if there are any restrictive covenants or guidelines.  Wherever you are allowed to keep the dumpster there must be enough space to leave a clear area around the dumpster to prevent fall hazards. You also need enough room for loading and unloading the dumpster. 
7. What size roll-off dumpster do I need?
It all depends on how much debris and waste you will be producing. 
8. How much does it cost to rent a construction dumpster? 
The average cost of a 10-yard dumpster is $376.90. The average cost of a 15-yard dumpster is $403.51. The average cost of a 20-yard dumpster is $432.54. The average cost of a 30-yard dumpster is $527.12. The average cost of a 40-yard dumpster is $584. 
9. What are construction dumpsters called?
Construction dumpsters are also called roll-off dumpsters as they are rolled off the truck with wheels at the base. 
10. What can I throw into a construction dumpster?
Most non-hazardous junk, debris, and waste are allowed in construction dumpsters. 
11. How can I get a construction debris dumpster rental?
Dumpster Wagon has dumpsters ready for rental. Reserve yours today!